No. 1711 is a small 0-4-0ST saddle tank steam locomotive built by Peckett & Sons in Bristol, England, which runs on the Puffing Billy Railway. This locomotive is sometimes called "Thomas the Tank Engine" for shows at Emerald in Australia.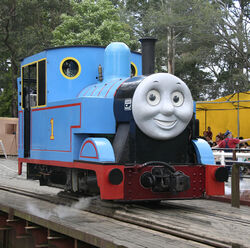 Built, and put to service, in 1926 for the West Melbourne site of the Metropolitan Gas Company and named "Sir John Grice" in 1928. Then, in 1941, this loco was withdrawn from service; stored; then sold to private hands in 1962; sold again in 1965 to the Whistle Stop Amusement Park in Frankston, south-east of Melbourne; stored again until the P.B.P.S. bought it in 1974. It was put into static display in the Steam Museum at Emerald. Between 1978 and 1981, when it was put back to service, the loco under-went a restoration. Which left it with a light green livery.
When this locomotive is named "Thomas the Tank Engine", it is transformed into Thomas by the addition of a fibreglass body in the shape of Thomas the tank engine.
References
Edit