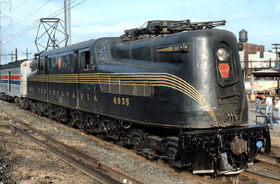 The
PRR GG1
was a class of electric locomotives built for the Pennsylvania Railroad (PRR) for use in the northeastern United States. Between 1934 and 1943, by General Electric and the PRR's Altoona Works built 139 GG1s.
The mechanical design of the GG1 was based largely on the New Haven EP3, which had been borrowed earlier from the New Haven Railroad by the PRR to compare it to its current standard electric locomotive, the P5a.
In 1933, the PRR decided to replace its P5a locomotives and told General Electric and Westinghouse to design prototype locomotives with the following specifications: a lighter axle load and more power than the P5a, a top speed of at least 100 miles per hour (160 km/h), a streamlined body design and a single (central) control cab.
The last GG1 was retired by New Jersey Transit in 1983 and Most have been scrapped, but 16 remain in museums.
The GG1 entered service with the PRR in 1935, and later operated on successor railroads Penn Central, Conrail and Amtrak.
When the GG1 operate on Amtrak they were painted Red, White, and Blue and lettered Amtrak.
In 1976 locomotive #4800 was painted in patriotic colors to Celebrate the United States Bicentennial celebrations.
These electric locomotives are also use for freight service besides passenger trains.
Both locomotives had the distinctive streamlining, but #4800 was the only unit ever to have a riveted body, giving rise to the nickname "Old Rivets".
Beginning in the early 1910s, the Pennsylvania received the FF-1 but decided it was too slow for passenger trains and was relegated to heavy freight service.