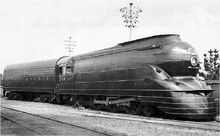 Pennsylvania Railroad 4-6-2 K4s 3768 is one of 425 K4 series Pacifics used on its top passenger trains until the late 1950's. 3768 was built by the PRR in its own Altoona Works in 1920. It was retired in October 1953, and was sold for scrap. The engine was famous for its nickname - the 'Torpedo'.
Streamlined
Edit
3768 operated on the North East portion of the Pennsylvania Railroad, likely operating no further west than Chicago. It often powered the mainline "named trains," such as the Broadway Limited. It also operated occasionaly on the jointly owned Pennslyvania into Chicago City. The 3768 was equipped with the most modern fittings installed on the K4s, excluding poppet valves. It got the modern slat pilot, typical PRR smokebox configuration, and modern interchangeable tender. It was also showcased at the 1939-40 World's Fair in New York City, alongside many other noteworthy locomotives. By the 1940's, the streamlined shrouds impeded maintenance.  The streamlined casing was removed, and the locomotive returned to its conventional appearance.
Ad blocker interference detected!
Wikia is a free-to-use site that makes money from advertising. We have a modified experience for viewers using ad blockers

Wikia is not accessible if you've made further modifications. Remove the custom ad blocker rule(s) and the page will load as expected.