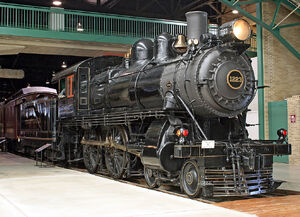 Pennsylvania Railroad No 1223
is a D16sb class 4-4-0 built in 1905 by the Altoona Works. This engine is the only preserved class D16sb. The 1223 was home built by the railroad at its Juniata Shops in Altoona, PA, in 1905. No 1223 was later rebuilt with smaller driving wheels for local freight service, having been replaced on passenger trains by engines like the E6 Atlantics and K4 Pacifics. In 1965 locomotive No 1223 was donated to the Strasburg Railroad in Strasburg, Pennsylvania. By the 1970s and 1980s, the 1223 pulled the Strasburg's regular tourist trains. In 1985-1986, No 1223 doubleheaded with
PRR No. 7002
pulling excursions for the Strasburg Railroad. In 1990 the locomotive was retired from excursion service as well. It is now on static display at the Railroad Museum of Pennsylvania, which has taken a firmer stance against loaning equipment to the Strasburg Railroad for excursion service citing the risk of damage.
This engine was featured in 2 films such as "Broadway Limited" (1941), and Hello, Dolly (1969).
The engine used to pull the Santa Claus Special at Lancaster, PA in December, of 1966.
In September of 1982 she pulled the Pennsylvania Special.
In 1978 it used to do a doubleheader with Canadian National No. 89.
In 1988 the engine pulled the Nylon Express in Felton, Delaware.
On June 04, 2010 it was under steam while it's on static display.
In 1989, Strasburg's newly acquired ultrasound device revealed that the firebox walls of both 1223 and 7002 were not thick enough to comply with the updated Federal Railroad Administration regulations, thus deeming the engines unsafe for operation.