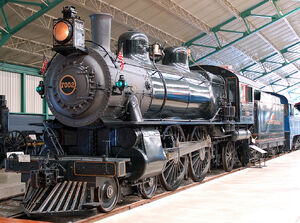 Pennsylvania Railroad No. 7002
is a 4-4-2 Atlantic type steam locomotive built by the Altoona Works in 1902 for the Pennsylvania Railroad originally numbered as #8063.
The locomotive haul passenger trains on the Pennsylvania Railroad.
No. 8063 was renumbered, altered to resemble 7002 and placed on exhibit as the "world's fastest steam engine" at the 1939 New York World's Fair and the Chicago Railroad Fair in 1948–49.
In the 1982, 7002 was leased to and operated by the Strasburg Railroad, mostly as a stand in for their #89 which was undergoing a major rebuild for most of the 1980s.
No. 7002 was mostly used on the half-hourly trains on the Strasburg Railroad but also two doubleheaded trips with PRR 1223 in the summer of 1985 to Harrisburg as well as a trip to Philadelphia on May 8, 1986.
The locomotive is now on static display at the Railroad Museum of Pennsylvania.
The original 7002 was also built in 1902 by Altoona Works but sadly it was sold scrapped in 1935.
The supposed record was set by the original #7002 between AY Tower and Elida, OH, on 12th June 1905 on its inaugural New York to Chicago run hauling the Broadway Limited.
No. 7002 was transferred to the Railroad Museum of Pennsylvania from the Pennsylvania Railroad's historical collection in Northumberland, Pennsylvania in December 1979 by the Pennsylvania's successor Penn Central.
No. 7002 also ran between Hanover Junction and Gettysburg on November 19, 1988 to celebrate the 125th anniversary of Abraham Lincoln's trip over the same route to make the Gettysburg Address.
In 1987 it haul The 85th Anniversary of the Broadway Limited.
When 7002 used to be on display at the Railroad Museum of Pennsylvania it used to be an outdoor exhibit but as of today she's an indoor exhibit.
Both 1223 and 7002 were removed from service when the Strasburg Rail Road acquired an ultrasonic testing device in December 1989 and discovered that the metal sides of the locomotives' fireboxes were too thin to allow for safe operation.