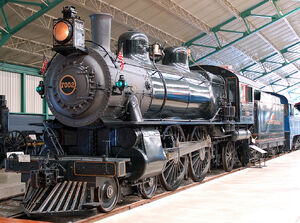 Pennsylvania Railroad No. 7002
is a class E7s 4-4-2 Atlantic type steam locomotive built by the Altoona Works in 1902 for the Pennsylvania Railroad and originally numbered 8063. The locomotive used to haul crack passenger trains on the Pennsylvania Railroad.
No. 8063 was renumbered, altered to resemble 7002 and placed on exhibit as the "world's fastest steam engine" at the 1939 New York World's Fair and the Chicago Railroad Fair in 1948–49. There were rumors and even stories that the engine was clocked at 127 miles an hour. The supposed record was set by the original #7002 between AY Tower and Elida, OH, on 12th June 1905 on its inaugural New York to Chicago run hauling the Broadway Limited. Despite this, Mallard is still famously known for holding this record.
No. 7002 was transferred to the Railroad Museum of Pennsylvania from the Pennsylvania Railroad's historical collection in Northumberland, Pennsylvania in December 1979 by the Pennsylvania's successor Penn Central. In 1982, 7002 was leased to and operated by the Strasburg Railroad, mostly as a stand in for their #89 which was undergoing a major rebuild for most of the 1980's.
No. 7002 was mostly used on the half-hourly trains on the Strasburg Railroad but also two doubleheaded trips with PRR 1223 in the summer of 1985 to Harrisburg as well as a trip to Philadelphia on May 8, 1986. Over the span of her operational career, the 7002 celebrated two anniversaries. In 1987 it hauled a special train to celebrate the 85th Anniversary of the Broadway Limited. No. 7002 also ran between Hanover Junction and Gettysburg on November 19, 1988 to celebrate the 125th anniversary of Abraham Lincoln's trip over the same route to make the Gettysburg Address.
The locomotive is now on static display at the Railroad Museum of Pennsylvania.
The original 7002 was also built in 1902 by the Altoona Works but it was scrapped in 1935.
When 7002 moved to the Railroad Museum of Pennsylvania it was an outdoor exhibit but as of today she's an indoor exhibit.
On June 4th, 2010 the locomotive was 'steamed up' using an oily rag, even though it has always been on static display.
No. 8063 was actually an E2a-class but it was upgraded to the E7s-class in 1916.
The original 7002 was coupled to the train as the replacement locomotive in Crestline, Ohio on June 11, 1905, when the Pennsylvania Railroad inaugurated its new 18-hour train service from New York City to Chicago, the Pennsylvania Special—forerunner to the famed Broadway Limited.