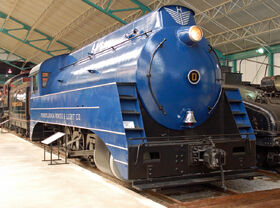 Pennsylvania Power & Light No. 4094
is an 0-8-0 steam locomotive built by the Heisler Locomotive Works in 1940.
It was first used for display at the New York World's Fair in 1940.
After the Fair, the locomotive was sold to the Hammermill Paper Company in Erie, PA, as #4 but its 190,000 lb weight proved to heavy for Hammermill's tracks.
In 1941, it was therefore sold to the Pennsylvania Power & Light Company and renumbered #4094-D.
It is now a public display at the Railroad Museum of Pennsylvania.
This engine is the only example of a streamlined 0-8-0 steam locomotive.
It is one of twenty-eight geared fireless locomotives built by Heisler from 1934 to 1941, and the largest fireless locomotive produced.
No. 4094-D switched coal hopper cars at the company's Hauto, PA, plant until 1969, when it moved to the museum.
By then, it was liveried in black and gold but, during restoration, the museum uncovered the original sky blue livery #4094-D sported at Pennsylvania Power & Light.