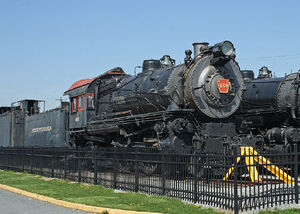 Pennsylvania Railroad No. 460
is a Class E6 4-4-2 Atlantic type steam locomotive built at the PRR's Juniata Shops in 1914 for high-speed passenger service.
No. 460 was the last E6 built and initially assigned to passenger service east of Harrisburg, PA.
The 460 lived a fairly normal life until it raced an airplane. Within fifteen minutes of the Lindbergh Special's arrival, scenes of the Washington ceremony were being shown on Manhattan screens, a full hour before competitors', originating the legend that #460 had outraced the airplanes. It was for this that #460 earned fame in June 1927, earning it the nickname "the Lindbergh Engine".
In 1937, #460 was loaned to Pennsy's subsidiary, the Long Island Rail Road.
Two years later, it returned to PRR's New York Division, although still occasionally loaned to the LIRR.
In 1942, it transferred to the Atlantic Division and then, in 1953, was leased to Pennsylvania-Reading Seashore Lines.
Back on the PRR Atlantic Division in January 1954, #460 headed a railfan excursion from Newark to Atlantic City, NJ, the last passenger train to travel between South Amboy and Camden, the original route of the "John Bull".
460 then resumed commuter services until October 1955, when it was retired. On 11th January 1956, it was dropped from service and transferred to the PRR collection at Northumberland, PA. No. 460 was chosen because it had just been overhauled at PRR's Wilmington, DE, shops.
The locomotive was moved to the Railroad Museum of Pennsylvania in 1969, upon its grand opening, where it was put in outdoor storage until 2010.
460 was finally given a cosmetic restoration, after many years of being exposed to the elements. The long job was completed in 2016. It is scheduled to be a part of the Museum's new roundhouse; plans for building the roundhouse have only just begun.
No. 460 is the only remaining E6 from the Pennsylvania Railroad.
The locomotive is one of 2 surviving "Atlantics" from the Pennsylvania Railroad. The only other survivor is #8063 as #7002.