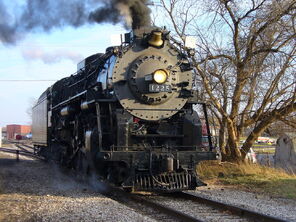 Pere Marquette 1225
is a class N-1 2-8-4
Berkshire
-type
steam locomotive
that currently runs and services at the Steam Railroading Institute in Owasso, Michigan.
Pere Marquette No. 1225
Details

Builder

Lima Locomotive Works

Date Built

December 1941

Serial Number

7839

Class

N1

Wheel Arrangement

2-8-4 Berkshire

Gauge

Standard (4 ft 8 1⁄2 in (1,435 mm)

Driving Wheel Dia.

69 inches

Cylinder Size

26" x 34"

Locomotive Weight

442,500 lb (200,700 kg)

Valve Gear

Baker

Tractive Effort

69,368 lbs

Boiler Pressure

245 psi (1.69 MPa)

Retired

1951
V - E - T - D
Pere Marquette No. 1225 was built in 1941 by the Lima Locomotive Works for the Pere Marquette Railway, were it worked hauling freight in the mid 40s and 50s. 1225 was retired from active service 1951 and was sent to be scrapped in New Buffalo Michigan. In 1955 the locomotive was saved from scrap and was place on display at the Spartan Stadium in East Lansing, Michigan, where it remained from 1955 until the 1980s. In 1981 the 1225 was donated to MSTRP by MSU just off campus and was later moved to former Ann Arbor Railroad steam locomotive shop in Owosso, MI for restoration. Its top speed is 70 mph.
In November 1985, the 1225 moved under its own power for the first time since 1951, it's first train excursion serviced in 1988, a 12-mile (19 km) trial runs between Owosso and Chesaning. In 1991, the 1225 paired up with Nickel Plate cousin no. 765 at Lima, Ohio along the way to Huntington, West Virginia to attend the NRHS Convention. The locomotive ran until 2009 when it suffered a fuel failure during Train Festival 2009 and was unable to pull passenger trains during the event, it later suffered a second fuel failure in December 2009. 1225 went out of service in 2010 for it's 15-year inspection and it's overhaul would began in January 2010. It returned to service in late November 2013 for test runs and pulled its first train since its return to service; 1225 has remained operational since.
The only other Pere Marquette steam locomotive that still survives today is #1223, on display in Grand Haven, Michigan.
Popular Culture
Edit
In 2002, Warner Bros. approached the engine and had its blueprints, image and sounds used for the 2004 Christmas Holiday film The Polar Express, starring Tom Hanks. Chris Van Allsburg, the author of the original book, stated that he used to play on the 1225 as a kid while attending football games in college and that he couldn't believe it was the same engine that was based on his book. However, the whistle in the film was provided by Sierra Railway No. 3.
External links
Edit