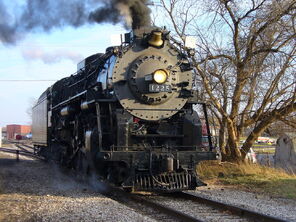 Pere Marquette 1225
is a 2-8-4 Berkshire type steam locomotive.
Pere Marquette No. 1225 was built in 1941 by the Lima Locomotive Works for the Pere Marquette Railway, were it worked hauling freight in the mid 40s and 50s. 1225 was retired from active service 1951 and was sent to be scrapped in New Buffalo Michigan. In 1955 the locomotive was saved from scrap and was place on display at the Spartan Stadium in East Lansing, Michigan. In 1981 the 1225 was donated to MSTRP by MSU just off campus and was later moved to former Ann Arbor Railroad steam locomotive shop in Owosso, MI for restoration. In November 1985, the 1225 moved under it's own power for the first time since 1951, it's first train excursion serviced in 1988, a 12-mile (19 km) trial runs between Owosso and Chesaning.
External links
Edit
Ad blocker interference detected!
Wikia is a free-to-use site that makes money from advertising. We have a modified experience for viewers using ad blockers

Wikia is not accessible if you've made further modifications. Remove the custom ad blocker rule(s) and the page will load as expected.