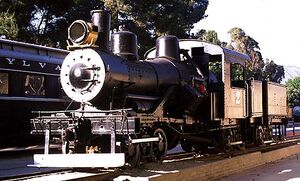 Pickering Lumber Co. No. 2
is a Heisler - 3 truck it was built by the Heisler Locomotive Works, Erie, PA, in 1918 for the Hetch Hetchy Railroad to work on the O'Shaughnessy Dam in Yosemite, CA.
In 1923, #2 was sold to Standard Lumber Company, which would one day become Pickering Lumber.
The locomotive was donated to the Travel Town Museum were it is now on static display since 1957.