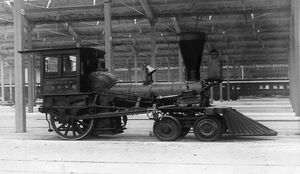 The Pioneer is a 4-2-0 steam locomotive that was built in 1837 by the Baldwin locomotive works. This was the first locomotive to operate in Chicago, Illinois. The locomotive pulled it's first train out of Chicago in 1848 after being delivered by schooner.
When the locomotive was originally built it was used by the Utica and Schenectady Railroad who called it Alert, nine years later it was sold to the Michigan Central Railroad who added it's cab and tender as it originally had an open footplate and onboard coal bunkers. In 1848 the locomotive was sold to the Galena and Chicago Union where it was used to build the railroad. this was when it was renamed Pioneer. 2 years later it was loaned to the Chicago, Burlington and Quincy railroad where it was used to haul works trains. It is currently on static display in the Chicago History Museum.
Ad blocker interference detected!
Wikia is a free-to-use site that makes money from advertising. We have a modified experience for viewers using ad blockers

Wikia is not accessible if you've made further modifications. Remove the custom ad blocker rule(s) and the page will load as expected.