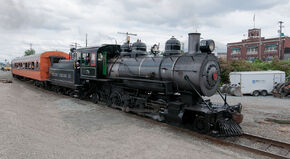 Polson Logging No. 70
is a 2-8-2 "Mikado" type steam locomotive built by the Baldwin Locomotive Works in 1922 for the Polson Logging in Hoquiam, WA.
The locomotive spent years working on the Polson Logging railroad hauling log trains.
It was later purchased by Rayonier Corp. in 1945. It was later retired from service in 1962 when Rayonier purchased two Baldwin diesels to replace their steam locomotives.
It is now operational on the Mount Rainier Scenic Railroad.