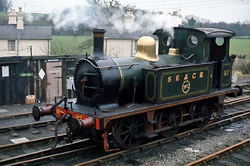 Primrose is an South Eastern and Chatham Railway P-Class locomotive, built at Ashford in 1910. With it's SE&CR number being 27, it worked most of it's life with light duties, such as small suburban services and shunting in the South Eastern region of the UK. Number 27 also worked for the military in 1915-1916, being exported to Boulogne for transhipping of munitions and other stores.
Escaping the cutters' torch of the scrapyard in the 1960's, number 27 was bought by the Bluebell Railway Preservation Society in 1961 as the railway's third engine, the first being Stepney and the second being Bluebell. Here the loco was renamed along with number 323 Bluebell to match the flowered pattern the Bluebell has carried out on it's three P-Class tank locomotives. In 1978 Primrose reached it's overhaul date, and was dismantled ready for a quick overhaul, yet insufficient funds led to the loco being cast aside for more important tasks to be completed. Following a delay of nearly 30 years, a restoration project is finally underway for Primrose, and work has now commenced at the Bluebell Railway's workshops at Sheffield Park.
Primrose made an appearance in the late Reverand Wilbert Awdry's Railway Series books, featuring in the 18th novel, 'Stepney The "Bluebell" Engine' in 1963, along with sister P-Class Bluebell, also in ownership of the Bluebell Railway.
Primrose is currently painted in the SE&CR's standard green and gold livery, albeit only slightly visible through layers of rust.