The Progress Rail PR22B is a three genset locomotive. The PR22B has three CAT C-18 gensets, all three combined produce 2,235 hp. Not many PR22B's have been outshopped, all were built before 2012, and all PR22B's built are EPA Tier 2 compliant. The small fleet of Progress-owned locomotives have toured on RJ Corman in 2009, CSX in 2011, and NYS&W in 2013. As of January 1st,2014 no orders have been generated. 
Current PR22B Fleet
Edit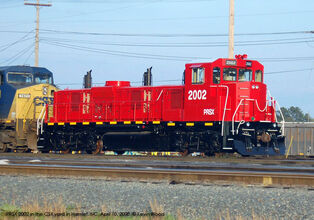 PRSX 2002- Currently at Progress Rail Patterson,GA
PRSX 2003- Never compleated; frame and single genset only.
PRSX 2005- Testing on NS
PRSX 2006- At Sugarland,TX
PRSX 2008- Dismantaled; at Progress Rail Patterson,GA
Ad blocker interference detected!
Wikia is a free-to-use site that makes money from advertising. We have a modified experience for viewers using ad blockers

Wikia is not accessible if you've made further modifications. Remove the custom ad blocker rule(s) and the page will load as expected.