Queensland Railways DH Class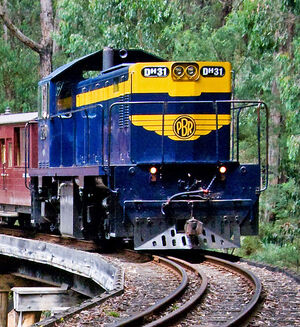 This is DH 31 (59); preserved on the Puffing Billy Railway.
Details

Years built

Unknown

Builder

Walker Ltd.
Maryborough, Queensland, Australia

Number Produced

73

Years in Operation

less-than 20 years

Fleet Numbers

DH1–73

B-B

Number Operational

2

Number Preserved

1

Number Scrapped

Unknown

Dimensions
(l x w x h)

36 ft (11.1 metres) in length

Gauge

3 foot 6 inch (1,067 mm)
V - E - T - D
The DH Class were narrow-gauge four-axle diesel-hydraulic locomotives built by Walkers Ltd for Queensland Railways.
The DH Class was a successful shunter or a short hauler. They were very useful in floods, because they could work in 2 ft (60.96cm) of water — 3 times that of diesel-electrics of that time. Their only problem was that they were underpowered, and were replaced by diesel-electrics within twenty years of their introduction.
Only two DH Class locomotives remain on Queensland's railways; DH 72 and 73. These locomotives are based at the Callemondah and Mackay Depots. With the exception of a few that have been bought by heritage groups, most have been re-gauged and rebuilt into heavy crane locomotives. DH 31 (originally DH 59) has been preserved by the Puffing Billy Railway.
Specifications
Edit
The class weighs 37 tons. The prime mover is one 465 hp (347 kW) Caterpillar D355E that is coupled with a Voith L42U2 hydraulic transmission. The locomotive produces 82 kN tractive effort @ 12 km/h
References
Edit
Ad blocker interference detected!
Wikia is a free-to-use site that makes money from advertising. We have a modified experience for viewers using ad blockers

Wikia is not accessible if you've made further modifications. Remove the custom ad blocker rule(s) and the page will load as expected.