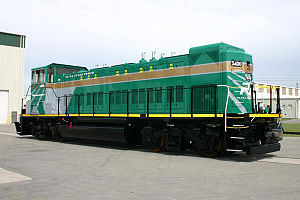 The RP20CD is one of currently three genset locomotive types in RJ Corman Railpower's catalog. Railpower went bankrupt in late 2009 and RJ Corman purchased the company's assets and renamed it RJ Corman Railpower. The unit fetures 3 667-hp Duetz Generator Sets. These three gensets put out 2000 hp when all three modules are in oporation. The RP20CD in built on 6-axle locomotive frames, exact length depends on the Core unit. Not very many have been built. 
Union Pacific Currently has 12 on its roster. 6 were built under the origional railpower in 2009. The other six were built by Corman in 2012-2013. The newer units are employed at UP's Proviso Yard in Chicago's Western suburbs. UP's all have remote-control equipment. The first six are used at the railroad's Roseville,CA hump yard.
Who Bought What?
Edit
UP 887,889-99. (QTY:12) Built 2009 and 2012-13. All built using SD40-2 cores.
NS 3830 Built 2009 (by origional Railpower) used a NS SD40 core.
CSX 1601-1603 built 2011 by Corman Railpower, all using SD40-2 cores. 
Ad blocker interference detected!
Wikia is a free-to-use site that makes money from advertising. We have a modified experience for viewers using ad blockers

Wikia is not accessible if you've made further modifications. Remove the custom ad blocker rule(s) and the page will load as expected.