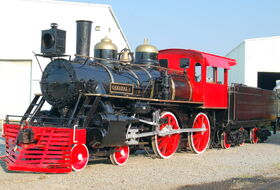 Red River & Gulf Railroad No. 104
is a 4-4-0 steam locomotive built by the Baldwin Locomotive Works in September, 1919 at a cost of about $19,791.74.
The engine was designed for general freight and passenger service, the RR&G employed it for the latter between Long Leaf to Kurthwood, Louisiana. The engine was withdrawn from service in 1926, as passenger service was declining, and made a final run in 1927 before being stored in reserve the following year.
In 1946, the engine was purchased by Paulsen Spence for his Comite Southern Railroad, where it was renumbered as no. 1. The railroad became the Louisiana Eastern in 1950, and the engine was relettered accordingly, and operated in this capacity until 1961, when it was sold to the then newly developed Stone Mountain Scenic Railroad near Atlanta, Georgia.
For the Stone Mountain Railroad, the engine was returned to its original number, and was given a false balloon stack, box headlight, and pilot with horizontal slats. The engine was named the "General II" in honor of the Civil War era engine that was stolen in 1862, and operated tourist trains around Stone Mountain Park until 1986, when it was withdrawn due to boiler issues. However, the engine continued to "pull" trains around the park until 1991. In these instances, the engine would be pushed by a diesel locomotive behind it.
From 1991 to 2007, the engine remained stored out of service in the Stone Mountain rail yard. In 2007, it was donated to the Southeastern Railway Museum in Duluth, GA, and was moved to that museum the following year, where it is currently displayed.