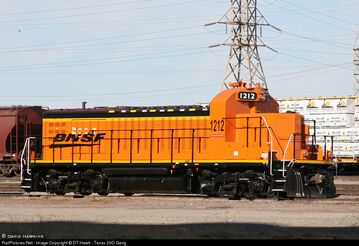 The GG20B "Green Goat" is a very low emissions switcher, that is designed to run mostly of battery power. The GG20B was produced by Railpower Technologies, since RP has been acquired by RJ Corman, the GG20B has been dropped from the product line. It is powered by a single Caterpillar C9 six cylinder inline engine developing 300 horsepower, which is connected to a large bank of batteries where both sources combine for a total power output of 2,000 horsepower. More than 50 GG20B's have been produced, however due to their unreliability, many have been converted to Gensets, or retired. GG20B's have also been know to have electrical fires making them undesirable to the railroads that purchased them. Union Pacific, through 2010-2012, retired its 21 unit GG20B fleet. Many have been turned back to RJ Corman Railpower.
Who bought What?
Edit
Bechtel Group (QTY:1) #2000
BNSF (QTY:4) #1210-1213
CP Rail (QTY:6) #1700-1705 30 unit contract was Terminated. Units sent to other owners.
KCS (QTY:2) #1868-1869 (Units converted to RP14BD's)
Lubrizol Corporation (QTY:1) #2006
Modoc Rail Academy (QTY:1) #2608 Unit sold 2013 to unknown buyer.
Railpower Technologies (QTY:5) #2401-2405 Units were Demos. Some converted to gensets by RJ Corman.
Railserve (QTY: 10) #414,1602,1621,1810,2402,2605,4495,4547,8049 and 9140.
UP (QTY:21) #2004, Y2300-Y2319 Units retired/out of service as of 2011.
US Army (QTY:4) #6000-6003.
Ad blocker interference detected!
Wikia is a free-to-use site that makes money from advertising. We have a modified experience for viewers using ad blockers

Wikia is not accessible if you've made further modifications. Remove the custom ad blocker rule(s) and the page will load as expected.