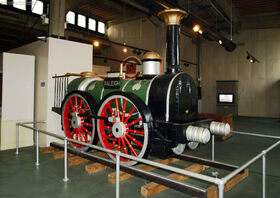 The Raleigh was built by C. Tayleur & Company, an affiliate of Robert Stephenson & Company in England in 1836.
It was one of two 0-4-0 locomotives built for the Raleigh & Gaston Railroad and shipped to the US. Along with the second locomotive, the "Gaston", it was used to begin construction of the first sections of the Raleigh & Gaston.
In 1900, the Raleigh & Gaston merged with the Seaboard Air Line and the tracks eventually became part of the CSX System.
It, unfortunately, met its fate after only a year in service, and a replica was constructed to commemorate the antique steam locomotive. The replica is now currently preserved on static display at The North Carolina Transportation Museum.
The replica "Raleigh" was built in 1927 by the Seaboard Air Line shops in Raleigh, NC.
It was donated to the museum by the Seaboard in 1965.
It was North Carolina's second railroad, the Wilmington & Raleigh Railroad having beaten it to the title by just one month.
Ad blocker interference detected!
Wikia is a free-to-use site that makes money from advertising. We have a modified experience for viewers using ad blockers

Wikia is not accessible if you've made further modifications. Remove the custom ad blocker rule(s) and the page will load as expected.