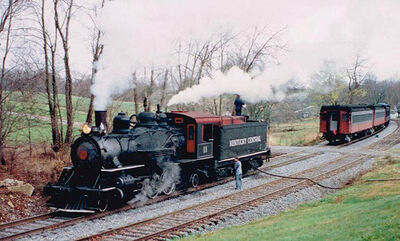 Reader Railroad 2-6-2 #11 is a Prairie type steam locomotive.
The 2-6-2 #11 was built in 1925 by the Baldwin Locomotive Works in Philadelphia, Pennsylvania, for the Caddo & Choctaw Railroad.  In 1943, it was sold to the Reader Railroad in Arkansas, and was eventually rebuilt while serving this railroad. While also serving the railroad, she lost her original tender when a truck collided into it. A larger tender replaced the destroyed one.
Later years
Edit
When the Reader Railroad's operations started going downhill in the late 1960's, they were reformed as a tourist railroad. The 2-6-2 #11 was used as one of the prime locomotives for these excursions. In 1974, the railroad sold the locomotive to Frank Pollock, and in 1985, the locomotive went to the Hartwell Railroad in Georgia. The Hartwell Railroad used #11 for their own scenic steam excursions, and during this time, the 2-6-2 was repainted into a Southern Railway inspired green and gold leaf paint scheme. 
Ultimately, a sudden death of one of the locomotive's owners at that time led to financial difficulties, and the Hartwell's steam-powered trips were cancelled. After these events, the 2-6-2 #11 was sold to the Kentucky Central Chapter NRHS in the late 1980's. This group intended to use the locomotive on steam powered trips through Kentucy's scenic Bluegrass region on the TTI (TransKentucky Transportation). While in the process of being loaded onto a flatbed trailer to Kentucky, it was decided to disconnect the 2-6-2 from it's tender. The loading work was done on a slight grade, and when the locomotive was disconnected it's tender rolled down the grade, and overturned a few miles down the tracks. The tender recieved a large dent on the back of the fireman's side, but this was not repaired and the locomotive was loaded onto it's trailer and went to Kentucky.
After arriving to Kentucky in 1989, 2-6-2 #11 was put to work as the Kentucky Central Chapter intended to use her for; hauling steam excursions. These trips that the #11 ran originated from Paris, Kentucky, and ran to Carlisle, Kentucky, and sometimes Maysville, Kentucky. In 1993, these trips - and #11's career - ended, as the TTI Railroad was taken over by CSX Transportation. This was because of the high insurance costs to run a steam locomotive on the railroad now. The #11 was stored on a siding, and slowly rusted away until 2009, when it was donated to the City of Nicholasville in Kentucky, and was soon relocated to the Riney-B Park in Nicholasville, Kentucky. 
Ad blocker interference detected!
Wikia is a free-to-use site that makes money from advertising. We have a modified experience for viewers using ad blockers

Wikia is not accessible if you've made further modifications. Remove the custom ad blocker rule(s) and the page will load as expected.