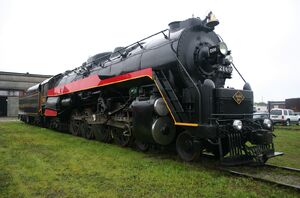 Reading Railroad No. 2100
is a 4-8-4 steam locomotive, it was originally built by the Baldwin Works in 1945.
The locomotive was used for freight service on the Reading Railroad until 1957.
It was sold in 1965 to Streigel Equipment & Supply. Sold 1975 to Ross Rowland, stored many years in Hagerstown, MD roundhouse (Western Maryland Railroad), used as parts source for sister #2101.
Since its rescue in 1975, 2100 changed ownership on numerous occasions and ran infrequently in Maryland, Ohio, and later in Canada. After a fuel conversion, 2100 was transported to Tacoma, Washington where it operated in limited excursion service for a short line railroad until 2008.
No. 2100 is now transported to the B&O Roundhouse in Cleveland, Ohio in 2015 under restoration to operating condition.
As such, 2100 became the first T-1 in service.
The locomotive pulled Iron Horse Rambles excursions from 1959-1964.
On October 1962, it double-headed a passenger train with Reading No. 2102.