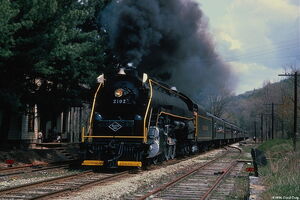 Reading No. 2102
is a 4-8-4 "Northern" type steam locomotive. It was originally built by the Baldwin Locomotive Works in 1945.
She was used for freight service on the Reading Railroad until 1956, and stored by Reading Company after full dieselisation.
No. 2102 was sold to Steam Tours of Akron, OH in 1967, and spent the next eight years running on various fan trips in the Midwest and made a brief appearance on the Greenbrier Scenic Railroad running between Durban and Cass, WV.
In 1985, 2102 was moved to Reading, PA and purchased by Andy Muller for his Blue Mountain and Reading tourist railroad in Hamburg, PA.
In 1995, 2102 was moved to Steamtown National Historic Site for a restoration which never occurred and was moved to Port Clinton, PA in 1997 and placed in indoor storage.
No. 2102 is presently stored inside the Reading Blue Mountain and Northern Railroad's steam shop in Port Clinton, PA out of public view, though is brought outside for display on occasion.
She is now at the Reading & Northern Shops under restoration to operating condition.
On October, of 1962, it double-headed a passenger train with Reading No. 2100.
In 1977, it double-headed a passenger train with Grand Trunk Western No. 4070.
In 1987, it double-headed a passenger train with Reading & Blue Mountain No. 425.
In January 2016, the Reading Blue Mountain and Northern started a mechanical evaluation on the locomotive to see if it is restorable, and on January 21, 2016 announced the locomotive would be returned to service in mid-2017.
In May 1973, No. 2102 powered a passenger excursion on the Erie Lackawanna from New Jersey to New York and back again; for this trip, she masqueraded as Delaware and Hudson #302 - with smoke deflectors, Hancock long bell 3-chime, bell, headlight, etc. installed.
No. 2102 spent the next six years pulling tourist trains on the BM&R as well as occasional off-line trips until its flue time expired in 1991.
Ad blocker interference detected!
Wikia is a free-to-use site that makes money from advertising. We have a modified experience for viewers using ad blockers

Wikia is not accessible if you've made further modifications. Remove the custom ad blocker rule(s) and the page will load as expected.