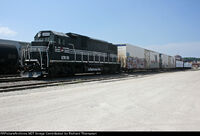 Republic Locomotive is best known for locomotive leasing, however in the 1990's the company tried its hand at locomotive rebuilding. The result was the one-of-a-kind locomotive, the RD20. In March 1993 field testing had begun on the unit. The RD20 was a joint-project between Detroit Diesel Corp. and Republic.
The locomotive generated 2,000 hp from a  Detroit Diesel 16V-149TI DDEC prime mover. According to Republic, the locomotive is the first locomotive in North America to feature a solid state Silicon Controlled Rectifier control system. The locomotive tested on Union Pacific as UP20, then after evaluations ended to units was dealt to Larry's Truck and Electric. The unit currently resides as LTEX 20.
Ad blocker interference detected!
Wikia is a free-to-use site that makes money from advertising. We have a modified experience for viewers using ad blockers

Wikia is not accessible if you've made further modifications. Remove the custom ad blocker rule(s) and the page will load as expected.