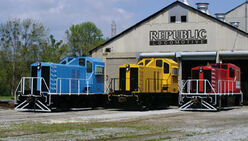 Republic Locomotive has continued to innovate in its Niche market, industrial switchers. The current model that is being produced is the RX500 Industrial Locomotive. According to Republic's website the unit produces 50,000 lbs of tractive effort, comparable to and EMD SW1500 or GE 144-tonner. A unique feature in term of switchers, this locomotive has AC traction, the only industrial switcher to currently have that. The unit also boasts a Tier 3 compliant prime mover. Several industrial companies have purchased this product, including Duke Energy.
Ad blocker interference detected!
Wikia is a free-to-use site that makes money from advertising. We have a modified experience for viewers using ad blockers

Wikia is not accessible if you've made further modifications. Remove the custom ad blocker rule(s) and the page will load as expected.