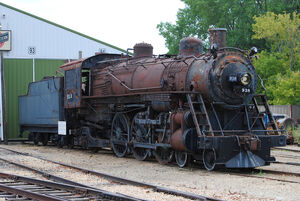 Rock Island No. 938
is a class P-33 4-6-2 steam locomotive built in 1910 by Alco, as part of the Rock Island's first order for superheated Pacifics. This locomotive pulled passenger trains on the Chicago, Rock Island and Pacific Railroad. 
Based on the P-31 4-6-2s delivered the year before, the new P-33 class had larger diameter fire tubes and was built with a superheater already installed (the P-31s were retrofitted with superheaters over the following years). With only 45 square feet of grate area and no stoker, the locomotive's steaming capacity could not keep up with the large 25" diameter cylinders. Though liners were later installed to reduce the cylinder diameters, many of these small Pacifics wound up in commuter service rather than mainline passenger assignments.
 Chicago, Rock Island & Pacific 938 was under steam for the very last time on September 16, 1953 just before proceeding to Chicago's LaSalle Street Station for a press announcement of The Rock Island Line attaining its 100% dieselization goal.
After retirement, 938 was donated for display on the grounds of Enid State School, a centre for handicapped children in Oklahoma, in 1954, where it stayed for many years. It was purchased by the Fort Worth & Western Railroad (AKA, the "Tarantula") and trucked to Fort Worth with the boiler separated from the frame.
Today, the 938 is now on static display at the Illinois Railway Museum in Union, IL. Since May 24th, 2014, the locomotive was put in the Steam Department Shops for Cosmetic Restoration.
This was the last steam locomotive - passenger or freight - withdrawn from the Rock Island's roster upon retirement in 1953.