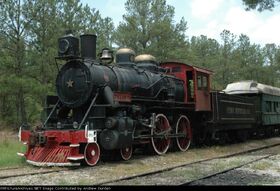 San Antonio and Aransas Pass Railway No. 60 is a 4-4-0 steam locomotive it was built in 1922 by Baldwin Locomotive Works for the San Antonio & Aransas Pass Railway and it was named after the
W&ARR texas
but number II.
She was then sold to the Louisiana and Eastern Railroad for pulling freight and was renumbered as the #2.
In 1925, the SA&AP was leased entirely by the Galveston, Harrisburg, and San Antonio Railway (GH&SA), which in 1927 the Southern Pacific Railroad (SP) combined the GH&SA with other SP acquired railroads east of El Paso, Texas forming the Texas and New Orleans Railroad Company.
It was re-letter and renumbered as the T&NO #220 on August 31, 1950.
The locomotive was then sold in May of 1962 to her present owner Stone Mountain Scenic Railroad were it haul passenger trains.
Today it's at the Three Rivers Rambler - Gulf & Ohio Railway in Knoxville, Tennessee, but it's right now under Restoration.
The owner of the L&E was Mr. Paulsen Spence, who was also a steam engine collector. At the time of Mr. Spence's death (October 31, 1961), he had over 35 different steam locomotives on his property. Unfortunately, none of his family shared his love for the equipment and most of the collection was cut up and sold for scrap. Only a few of those pieces remain today.
This Texas Lady is long over due for her return home and that is what the Friends of the SA&AP 60 want to do. However, they would like to get her operationally restored and thus allowing her to proudly display her part as San Antonio's railroad heritage and be the last surviving ambassador of the SA&AP railway.
In 1963 it double-headed with RR&G No. 104.
There, it was altered to resemble the "Texas", one of the locomotives involved in a chase through Georgia during the Civil War.
Ad blocker interference detected!
Wikia is a free-to-use site that makes money from advertising. We have a modified experience for viewers using ad blockers

Wikia is not accessible if you've made further modifications. Remove the custom ad blocker rule(s) and the page will load as expected.