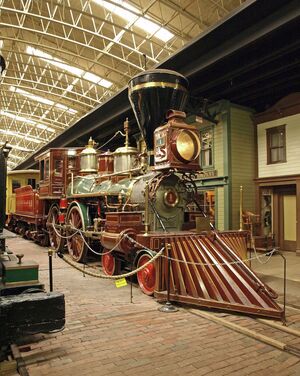 St Paul & Pacific No. 1 (William Crooks) is a type
4-4-0
"American Standard"
steam locomotive
that was built in 1861 by the New Jersey Locomotive & Machine, it was later part of Alco.
The M&P was almost immediately absorbed into the St Paul & Pacific, and #1 was then named "William Crooks" after the Chief Mechanical Engineer of the SP&P. It was the first locomotive to operate in Minnesota, starting work in 1862 hauling passenger trains between St. Paul and St. Anthony.
The locomotive was joined by the Saint Paul, Minneapolis & Manitoba Railway in June 1879 with transfer of the SP&P to that road.
In 1890, the "William Crooks" passed to the Great Northern Railway with another transfer of the road.
The locomotive was retire from serivce in 1897.
The locomotive was restored to operation for Hill's 70th birthday in 1908, as he had insisted when informed of its condition.
Today it is now on static display at the Lake Superior Railroad Museum in Duluth, MN.
In 1924, the locomotive went on an exhibition tour from Chicago to Seattle.
It went on display at the Saint Paul Union Depot from 1954 to 1962 when it was donated to the Minnesota Historical Society by the Great Northern.
It was fortuitously saved from scrapping by James J. Hill, President of the SP&P, in 1897, and was later displayed at the 1939 New York World's Fair and the Chicago Railroad Fair in 1948, where it featured in the "Wheels A-Rolling" pageant. However, that was the last time it ever operated under its own steam.
Ad blocker interference detected!
Wikia is a free-to-use site that makes money from advertising. We have a modified experience for viewers using ad blockers

Wikia is not accessible if you've made further modifications. Remove the custom ad blocker rule(s) and the page will load as expected.