The
SR, Southern Railway (UK), Q1 Class Bulleid
is a type of
0-6-0
steam locomotive
.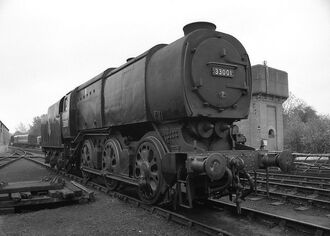 It was built in 1942 by the Brighton Locomotive Works and the Ashford Locomotive Works for service in the British Royal Military during World War 2 as a special-duty mixed traffic engine used and ordered by the Southern Railway. They were also proven to achieve a record speed of 50mph driving backwards, which actually proved them to be better at traveling "tender first" rather than slowly accelerating forward.
Only 40 were built, but survived as spare units on the BR after the "Big Four" no longer became existent into the End of the Steam Era.
One known example is preserved at the National Railway Museum in York, England in the UK, which is number 33001, and is also the last in existence.
They were often nicknamed "ugly ducklings" because of how unusual their design and appearance is.
The SR Bulleid Q1 No. 33010 is the basis for Neville from Thomas and Friends.