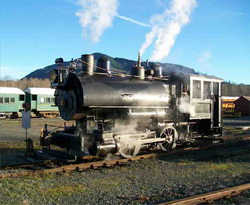 Santa Cruz Portland Cement Co. No. 2
is a 0-4-0ST locomotive built in 1909 by H. K. Porter, the Santa Cruz Portland Cement Co. #2 was purchased in 2006 by Efstathios I. Pappas. Affectionately known as "The Chiggen," this locomotive served as a billboard for a fried chicken restaurant for over 30 years before rebuilding began. This locomotive is available for rent and special events and use on railroads.
This article is a stub. You can help Locomotive Wiki by expanding it.