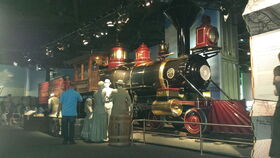 Santa Cruz Railroad No. 3 "Jupiter"
is an American type 4-4-0 steam locomotive. It was built by the Baldwin Locomotive Works in 1876 for the Santa Cruz Railroad in California and named Jupiter.
The locomotive was designed to work for passenger and freight service, and it was one of three locomotives operating on the twenty-mile railroad.
It was then sold to the Ferrocarril Guatemala Central Railroad in 1885.
The FGC became part of the Ferrocarriles Internacionales de Centroamerica in 1921, on which "Jupiter" ran right up until 1960.
In 1963, a Washingtonian named O. Roy Chalk bought the FIdeCA. Chalk then brought the "Jupiter" to DC in 1964, where it was placed on open air display in the John F. Kennedy playground at 7th and O St. He then donated the locomotive to the Smithsonian in 1975.
It went on display the following year as part of the 1876 Exhibition at the Arts and Industry Building.
Today it's on static display at the National Museum of American History.