Savannah and Atlanta (S&A) 750 is a 4-6-2 'Pacific' type steam locomotive built by American Locomotive Company in 1910.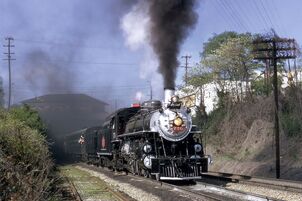 750 was built by ALCO in 1910 for the Florida East Coast where it was originally number 80. It was supposed to haul passengers across the "Flager Extension" on the Florida Keys. When the 1935 hurricane significantly destroyed the connecting bridges, several excess engines were sold off including #80. She was purchased by the Savannah & Atlanta Railroad and she became their #750. When the S&A dieselized in the early 1950s, #750 was still kept on the active roster to handle the work trains, she was officailly retired in 1962. After retirement she was picked up by the Southern Railway steam program until she was taken up by the New Georgia Railroad. She is currently on display at the Southeastern Railway Museum in Duluth, Georgia.
Class: Light Pacific
Weight: 180,000 lbs
Tractive Effort: 31,000 lbs
Drivers: 69in
Cylinders: 22x26in carried 200 p.s.i
Ad blocker interference detected!
Wikia is a free-to-use site that makes money from advertising. We have a modified experience for viewers using ad blockers

Wikia is not accessible if you've made further modifications. Remove the custom ad blocker rule(s) and the page will load as expected.