In 1919 Baldwin produced six light decapod type locomotives for the Georgia Florida and Alabama Railroad. This was part of a order of 22 engines for several non class 1 railroads. These engines were known for being light on their feet and steaming fast. They were numbered 400-405
In 1948 the SAL acquired the GF&A and were amazed at the decapods. This lead to an order of eight more engines of relatively the same design. The new batch was numbered 202-209.
Between 1952-1953 the SAL retired these engines which were in turned taken up by the Gainesville Midland RR. No. 202 was sold ot the Durham and Southern and renumbered 533.
The remaining engines 203-209 ran on the GM until 1959 when they were officially decommissioned.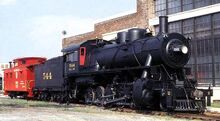 Survivors
Edit
(Note: This list contains all surviving engines from both batches.)
Great Western/ Strasburg RR #90
SAL #544
GM #203
GM#208
GM#209
Ad blocker interference detected!
Wikia is a free-to-use site that makes money from advertising. We have a modified experience for viewers using ad blockers

Wikia is not accessible if you've made further modifications. Remove the custom ad blocker rule(s) and the page will load as expected.