javascript:void('Visual')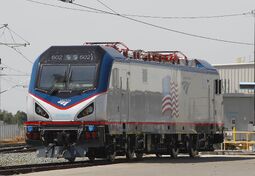 The Siemens ACS-64 is the first new electric locomotive delivered to Amtrak since 2001. Officially named the American Cities Sprinter (ACS-64), this locomotive is designed to fully comply with all U.S. federal standards and regulations, including crash worthiness standards and "Buy America" laws. They produce 8,600 horsepower (6,400 kW), hence the "-64" in the "ACS-64" name. These locomotives are being assembled in Siemens' Sacramento, Calif., rail-manufacturing plant, with parts supplied from its plants in Norwood, Ohio, Alpharetta, Ga., and Richland, Miss., and nearly 70 other suppliers representing more than 60 cities and 23 states in the US.
The first production ACS-64 rolled off the assembly line in May 2013. The ACS-64 made its first revenue run on February 7, 2014 on the Northeast Regional Train #152. ACS-64 #601 was involved while leading Northeast Regional Train #188 through Philadelphia, PA on May 12, 2015 killing 8 people and, injuring more than 200.
 There are conflicting reports as to the locomotive's status, whether it will be repaired or written off and scrapped, though it is more likely it will be repaired due to still being under warranty and the fact that it has yet to pay itself off.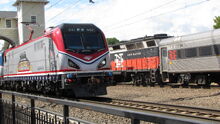 The monochrome car body structure on the ACS-64 is reinforced to fulfill the specified 800,000 lbs buff strength while featuring full-width anti-climbers engagement and push-back couplers, all part of the locomotive's integrated Crash Energy Management System, offering enhanced safety to its occupants. There have been a few redesigns of this locomotive prior to production - for instance, the initial locomotive was designed with only a single cab - this has been changed since. Amtrak has ordered nearly 70 of these locomotives, numbered in the 600-670 series. Delivery will continue through the end of 2015.
Amtrak's ACS-64's will replace older units such as their stalwart EMD AEM7s (which are already being scrapped or sold to museums) and unreliable Bombardier HHP-8s (all have been returned to Bombardier). Southeastern Pennsylvania Transportation Authority (SEPTA) has ordered 13 ACS-64 locomotives from Siemens to be delivered in 2018. The units, like Amtrak's, are to be built at the Siemens California plant. There is also an option for 5 more units.

http://w3.usa.siemens.com/mobility/us/en/interurbanmobility/railsolutions/locomotives/Documents/Amtrak_DataSheet_2013_LR.pdf http://www.railwayage.com/index.php/passenger/high-performance/amtrak-acs-64-testing-under-way.html
http://trn.trains.com/news/news-wire/2015/05/septa-inks-$154-million-order-for-new-siemens-locomotives
https://en.wikipedia.org/wiki/Amtrak_Cities_Sprinter#/media/File:Northeast_Regional_152_(12384830114).jpg
Ad blocker interference detected!
Wikia is a free-to-use site that makes money from advertising. We have a modified experience for viewers using ad blockers

Wikia is not accessible if you've made further modifications. Remove the custom ad blocker rule(s) and the page will load as expected.