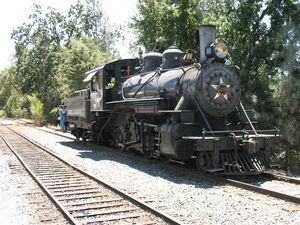 Sierra Railroad No. 28 is a 2-8-0 "Consolidation" type steam locomotive built by the Baldwin Locomotive Works in 1922 for the Sierra Railway.
The locomotive was design to haul heavy gravel and freight trains for raising the don Pedro Melones and O'Shaughnessy dams.
After the dams completed in the mid-1920's No. 28 haul the most freight traffic on the lower division of the railroad.
After completion of the project, #28 returned to hauling freight.
After dieselisation in 1955, it went into storage with #3, #34 and #36 at the Jamestown roundhouse, occasionally steamed up for filming and excursions.
It was derailed on an excursion in 1963 and later retired from service with damaged air brakes.
In 1971 the engine was restored and operation at Railtown 1897.
Today the engine is still at Railtown but the engine right now rests in the roundhouse awaiting for restoration.
The locomotive appeared in several movies, including Bound for Glory, Chattanooga Choo Choo, Bonanza, the Return, Overland Trail, Nichols, Little House on the Prairie, Bound for Glory and The World's Greatest Lover.
In 1999 it moved to Old Sacramento to participate in Raifair '99.
The engines's first 3 years until the cab fire destroy the wood and damaged the controls
As of 2016 #28 is finally under Restoration to operating condition.
On October 19, 1963 the locomotive derailed backing through a switch in Jamestown effectively ending all excursion trains on the railroad until the opening of Railtown 1897.
Ad blocker interference detected!
Wikia is a free-to-use site that makes money from advertising. We have a modified experience for viewers using ad blockers

Wikia is not accessible if you've made further modifications. Remove the custom ad blocker rule(s) and the page will load as expected.