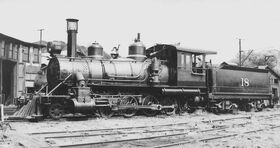 Sierra Railway No. 18 is 2-8-0 steam locomotive built in 1907 by the Baldwin Locomotive works for the Sierra Railway Company of California.
By 1916, Sierra Railway No. 18 had been rebuilt with new Superheater units and piston valves as an experiment by the railroad to consider the efficiency of these fittings for future locomotive acquisitions.
No. 18 was retired from service in 1952 when its tube time expired.
During the locomotive's annual inspection in 1952, excessive wear was found on No. 18's sidesheets. This issue deemed the locomotive unfit for continued service.
The locomotive sat on a siding at Jamestown until 1966 when it was sold to a private owner and moved to a trailer sales lot near Lodi, California.
Eventually, Fred Kepner purchased and moved this locomotive along with former Sierra Ralroad No. 36 to their current lococation in Merril, Oregon.
This locomotive was the railroad's first consolidation and was the most powerful rod-type locomotive on the roster at the time.
Like Sierra Railway No. 3 this locomotive appeared in several films, such as "The Bad Men in Missouri" "The Texas Ranger" "Dodge City" "Wyoming Mail" " Go West" "Duel in the Sun" "Take Me Out to the Ball Game" And the opening of "The Harvey Girls"
In "The Bad Men in Missouri", "Dodge City", and "The Harvey Girls" Sierra Railroad #18 poses as ATSF #18.
Ad blocker interference detected!
Wikia is a free-to-use site that makes money from advertising. We have a modified experience for viewers using ad blockers

Wikia is not accessible if you've made further modifications. Remove the custom ad blocker rule(s) and the page will load as expected.