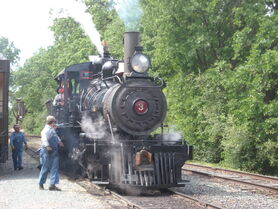 Sierra Railway No. 3 is a Rogers 4-6-0 "Ten Wheeler" mixed traffic
steam locomotive
. No. 3 was built in 1891 by Rogers Locomotive & Machine Works of Paterson N.J. for the Prescott & Arizona Central Railway. In 1893, the P&AC went bankrupt, and #3 was out of work. In 1897, the locomotive was moved from Arizona to Oakdale, California, where she resumed service as Sierra Railway No. 3. The No.3 operated in mixed service (mainly passenger) until 1932, when she was retired. The locomotive was restored in 1948, and once completed, she debuted with an excursion. After that, the locomotive once again re-entered service, and began appearing in films. The locomotive has been recognized nationally as
"The Most Photographed Locomotive in the World"
, due to her dozens upon dozens of film credits. Sierra No. 3 has been featured in more Movies and T.V. Shows than any other locomotive.
Sierra No. 3 was removed from service in 1996, pending major repairs, and was returned to service on July 3, 2010 at Railtown 1897 State Historic Park in Jamestown, California.
In 1929, Sierra No. 3 appeared in The Virginian with Gary Cooper, the very first film production filmed outside of a Hollywood sound stage.
The locomotive has also appeared in: High Noon, The Great Race, Bound for Glory, Back to the Future Part III, Unforgiven, and dozens of TV shows, which include The Lone Ranger, Petticoat Junction, Rawhide, Death Valley Days, Lassie, Gunsmoke, Bonanza, and Little House on the Prairie.
She starred in the 1950 film Wyoming Mail as Union Pacific Railroad #3.
She appeared in the 1958 western film Man of the West as Fort Worth & Chihuahua Railroad #3.
It appeared as Yosemite Valley Railroad #27 in the 1996 film Color of a Brisk and Leaping Day.
Her whistle was used for the locomotive in "The Polar Express".
Ad blocker interference detected!
Wikia is a free-to-use site that makes money from advertising. We have a modified experience for viewers using ad blockers

Wikia is not accessible if you've made further modifications. Remove the custom ad blocker rule(s) and the page will load as expected.