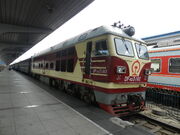 The Sifang Locomotive/DLF DF4D (Dongfeng Four) is a six-axle multi-purpose diesel locomotive used in the People's Republic of China. It is mainly used in more remote areas of China such as Northern China and western China, having been displaced by more modern locomotives, such as electric locos, EMUs, new freight diesels DF8 and ES59ACi, and new passenger loco DF11G, on busier routes.
Two major variants exist; the standard DF4D and the DF4DK (the "K" stands for "Kuaisu" or "high(er) speed"). DF4DKs are assigned to passenger service due to their extra speed, and DF4Ds are assigned to local passenger trains and freight trains.
Despite being used for passenger duties, none of China's diesel locomotives (save for the DF11G) are equipped with HEP generators, thus when they are assigned to a "luxury" train (recognised by red or blue/dark blue passenger cars or an A/C unit mounted on the roof of the cars) a special car is used ("KongTiaoFaDianChe" or "HVAC Power generator car"). They are equipped with twin V12 GE-type prime movers dedicated to supplying HEP.
Specifications:
Edit
Length: 69ft 3 inches
Width: 10ft 10.3 inches
Height: 15ft 7.2 inches
Wheel arrangement: C-C
Prime Mover: 16V240ZJD diesel engine based on ALCO design
Electronic configuration: AC-DC
Power output: 3300HP
Build date: 1996 onwards
HEP generator: (none)