Sir Haydn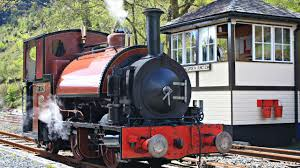 Sir Haydn
Details

Years built

1878

Builder(s)

Hughes' Loco and Tramway Engine Works Ltd, Loughborough, Leicestershire

Number Produced

Unknown

Years in Operation

1878-1948 (Corris Railway), 1951-1957 (Talyllyn Railway), 1968-Present (Currently working at Talyllyn Railway)

Fleet Numbers

Works Number 323, Talyllyn Railway Number 3

Originally 0-4-0ST, Now 0-4-2ST

Number Preserved

Unknown

Number Scrapped

Unknown

Dimensions
(l × w × h)

16' 6 1/2" Long

Gauge

2'3"
V - E - T - D
Sir Haydn is a type of 0-4-0ST (now a 0-4-2ST) narrow-gauge steam locomotive on the Talyllyn Railway.
Sir Haydn was built in 1878 by Hughes' Loco and Tramway Engine Works Ltd. He worked on the nearby Corris Railway until the closure of that line in 1948. In 1951, he was purchased by the Talyllyn Railway, along with the other surviving Corris locomotive, who became Edward Thomas, and was named after the line's late owner, Sir Henry Haydn Jones. The precarious state of the track meant he was seldomly used for the first few years, and firebox problems caused his withdrawal in 1957. He re-entered service in 1968.
In 1968 Sir Haydn was painted in a white livery.
At times, Sir Haydn visits the old Corris Railway.
Sir Haydn is currently undergoing a rebuild. For more information, visit http://www.talyllyn.co.uk/loco-3-appeal
He is one of two locomotives to have the same number for four different railways: Corris Railway, Great Western Railway, British Railway and now Talyllyn Railway, Edward Thomas is the other one.
Sir Haydn is the basis of Sir Handel from Thomas & Friends.