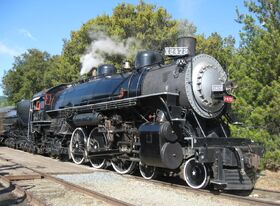 Southern Pacific RR No. 2472 is a 4-6-2 'Pacific' type steam locomotive built by Baldwin Locomotive Works in 1921 for the Southern Pacific railway.
SP 2472 was design to haul passenger trains on the Southern Pacific railway that served the Overland Route from Ogden, Utah, to Oakland, California until 1940 when the 4-8-2 "Mountain" type steam locomotives take over.
After being replaced by the 4-8-2 "Mountain" type locomotives, No. 2472 and all the other Pacific locomotives were sent to work Sacramento-Oakland passenger trains and San Francisco-San Jose commute trains, along with occasional freight service.
The engine was retired from service on February 7, 1957 and it was being replaced by diesel locomotives, and on April 10, 1959, 2472 was donated to San Mateo County, which put the unit on static display at the San Mateo County Fairgrounds.
It remained there for a couple of years until 1976 when a group of volunteers decided to restore the locomotive to operating condition.
From 2007 to 2015, the locomotive ran on the Niles Canyon Railway, before the GGRM left after finding a new home near Santa Cruz. Many railfans have hopes that the locomotive can operate on the Santa Cruz, Big Trees, and Pacific Railway to Felton, depending on whether the Mission Hill Tunnel (AKA Tunnel #6) has enough clearance.
In the 1990s and early 2000s, 2472 pulled several excursions and Caltrain specials such as the "Toys for Tots", and double-headed on an excursion in 1992 during the NRHS Convention Special it double headed with Southern Pacific No. 4449.
In September, 1992 the engine haul the Pacific Limited excursion special, and "The Earth Train".
The engine remained on static display until 1976 when a group of volunteers decided to restore the locomotive.
On December 31, 2006, SP 2472 and the remaining pieces of GGRM rolling stock completed relocation to the Niles Canyon Railway located in Sunol, California, on the east side of San Francisco Bay.
Ad blocker interference detected!
Wikia is a free-to-use site that makes money from advertising. We have a modified experience for viewers using ad blockers

Wikia is not accessible if you've made further modifications. Remove the custom ad blocker rule(s) and the page will load as expected.