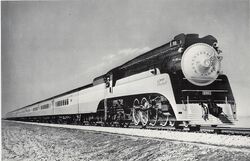 Southern Pacific No. 4412
is a class GS-2, a semi-streamlined 4-8-4 Northern type steam locomotive built in 1937 by the Lima Locomotive Works for the Southern Pacific railway. The locomotive was used for high-speed passenger service.
No. 4412 was one of six GS-2's built for the SP, essentially streamlined and improved versions of their GS-1 engines which were built by Baldwin.
(Off in the distance the mournful cry of the air horn on GS-2 #4412 broke the silence of the quiet Pajaro Valley.)
No. 4412 was retired from the Southern Pacific in 1956 and all the GS-2s were also retired later that year, when the diesels took over; No. 4412 was sold for scrap along with its five sisters. None of the GS-2's have been preserved.
No. 4412 was featured in films such as "The Narrow Margin" (1952), the opening of "Adventures of Superman" (1952), and even in the 1986 film "Tough Guys" in 2 portraits.
The engine was once repainted from its "Daylight" paint scheme to its postwar black and silver scheme.
No. 4412 once hauled a special passenger train named the "Daylight Limited" on its demonstration run near Aromas, California in 1937.