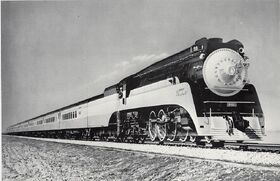 Southern Pacific No. 4412 is a class GS-2 a semi-streamlined 4-8-4 Northern type steam locomotive built in 1937 by the Lima Locomotive Works for the Southern Pacific railway.
The locomotive was used for high-speed passenger service for the Southern Pacific railway.
Off in the distance the mournful cry of the air horn on GS-2 #4412 broke the silence of the quiet Pajaro Valley.
No. 4412 was retired from the southern pacific in 1956 and all of the GS-2s were also retired later that year and when diesels took over for the Southern Pacific and No. 4412 was sold for Scrapped.
The engine was featured in films such as "The Narrow Margin" (1952), the opening of "Adventures of Superman" (1952), and Even in the 1986 film "Tough Guys" in 2 portraits.
The locomotive used to be repaint from it's "Daylight" paint scheme to it's black and silver scheme.
No. 4412 once hauled a special passenger train named the "Daylight Limited".
No. 4412 broke the silence of the quiet Pajaro Valley.
The engine used to haul a passenger special at the Horseshoe Curve on July 4th, 1937.
No. 4412 was essentially streamlined and improved versions of their GS-1 engines built by the Baldwin locomotive works.
Ad blocker interference detected!
Wikia is a free-to-use site that makes money from advertising. We have a modified experience for viewers using ad blockers

Wikia is not accessible if you've made further modifications. Remove the custom ad blocker rule(s) and the page will load as expected.