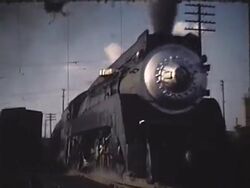 Southern Pacific No. 4413
is a class GS-2, a semi-streamlined 4-8-4 Northern type steam locomotive built in 1937 by the Lima Locomotive Works for the Southern Pacific Railway.
The locomotive was designed for high-speed passenger service on the Southern Pacific Railroad, and it also did the occasional freight service. It was retired from service in 1956 and was sold for scrap.
It was first to receive the red and orange "Daylight" paint scheme and were used for the streamlined debut of Southern Pacific's premier passenger train, the Coast Daylight in 1937.
During World War II it was repainted painted black and silver, and was used to transport troops.