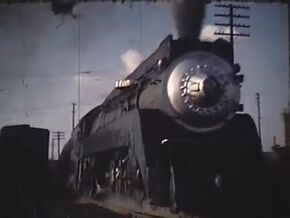 Southern Pacific No. 4413 is a class GS-2 a semi-streamlined 4-8-4 Northern type steam locomotive built in 1937 by the Lima Locomotive Works for the Southern Pacific railway.
The locomotive designed for high-speed passenger service on the Southern Pacific Railroad and it also does freight service and the occasional.
It was retired from service in 1956 and it was sold for scrapped.
It first to receive the red and orange "Daylight" paint scheme and were used for the streamlined debut of Southern Pacific's premier passenger train, the Coast Daylight in 1937.
During World War II, it was repainted painted black and silver and was used to transport troops.
Ad blocker interference detected!
Wikia is a free-to-use site that makes money from advertising. We have a modified experience for viewers using ad blockers

Wikia is not accessible if you've made further modifications. Remove the custom ad blocker rule(s) and the page will load as expected.