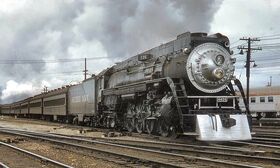 Southern Pacific No. 4436
was a class GS-4 4-8-4 "Northern" type steam locomotive. It was built by the Lima Locomotive Works for the Southern Pacific Railroad in 1941.
It was used to haul passenger trains, as well as the occasional freight train.
The locomotive was once repainted from it's "Daylight" paint scheme to it's black and silver scheme.
4436 was retired in 1958 and sold for scrap.