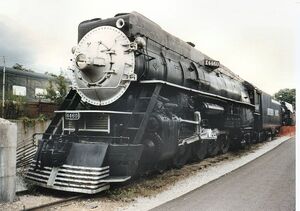 Southern Pacific No. 4460
is a semi-streamlined Class
GS-6
4-8-4 "Northern" type steam locomotive built by the Lima Locomotive Works for the Southern Pacific Railroad in July of 1943.
The locomotive was used for Passenger Service for the Southern Pacific railroad and it was also used during World War II.
Southern Pacific re-designed the engine for general service and it was finally approved, but the government took four of them and gave them to the smaller and power-starved Western Pacific Railroad.
The locomotive made the final run was from Reno, Nevada to Oakland, California, and a local Boy Scout Bugler from the Bay Area Council, played taps for the funeral of the 4460, staged by the Southern Pacific Railroad on October of 1958.
The 4460 now sits on Static Display at the Museum of Transportation in St. Louis, Missouri.
Southern Pacific #4460 is the only surviving GS-6 Class steam locomotive.
It was built during World War II, but was never painted the famous Daylight paint scheme but Instead, it was painted black and silver, thus giving it the nicknames "War Baby", "Black Daylight".
Besides having the nicknames "Black Daylight" and "War Baby", it is also known as the "Forgotten Daylight".
The only reason that it was called the "Forgotten Daylight" it's because this nowadays everyone thinks about the SP 4449 which is the main superstar and everyone thinks she is the last of her class, and it has not been restored and partnered with her.
The tender once used to be lettered "Southern Pacific Lines" but as of today it's lettered "Southern Pacific".
No. 4460 was the first GS-6 locomotive built for the Southern Pacific railroad.
No. 4460 is the 4449's lesser-known "Cousin".
Both 4460 and 4449 are the only existing GS Class locomotives today.
Following the final excursion, 4460 was donated to the Museum of Transportation in St. Louis, Missouri, on April 16, 1959, where the engine has since sat along with many other historic steam and diesel locomotives from around the country.