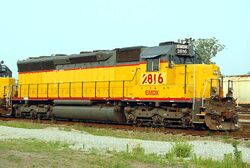 The SP; Southern Pacific, SD44R #7399 is a type of rebuild six-axle, 3,000hp EMD diesel locomotive which was rebuilt from an SD45 with SD40-2 components, and is the only one of its kind built in 1981.
The locomotive itself is a variant of the SD45R.
During the late-1970s and early-1980s shortly before the aborted Southern Pacific/Santa Fe merger in 1987, the Southern Pacific concluded their long running rebuild program known as the "GRIP" for rebuilding fleets of aging, less-reliable units similar to the ATSF rebuildIng programs at San Bernadino and Cleburne Texas. Thus, the development of the SP SD44R during the SD45R program in 1981. This engine worked well, but was not practical with the labor costs at the SP Sacramento shops. Other than daylight paint this was unrelated to the MK (Morrison-Knudsen) TE70-4S program which rebuilt 4 old GE U25B units into unsuccessful Sulzer powered locomotives in 1978.
The SP SD44R was eventually inherited by Union Pacific, included in their class of similar SD40-2 spec rebuilds of old SD45 units, and retired in 2007. After that it became a leased unit owned by EMDX.
SD44R 7399 initially wore a Daylight scheme similar to the 4 TE70-4-S units rebuilt by MK in 1978. Later it was repainted in the standard SP scarlet & grey. It eventually wore the SPSF "Kodakchrome" scheme and was one of the few remaiming SPSF units on SP's roster at the time of the UP/SP merger in 1996.
This unit was rebuilt by SP at their Sacramento, California locomotive facility in October 1981, using SD40-2 mechanical and electrical standards with a 3000-horsepower, V16-cylinder Diesel engine and a modular electrical cabinet, while retaining its original SD45 carbody.
References
Edit
Ad blocker interference detected!
Wikia is a free-to-use site that makes money from advertising. We have a modified experience for viewers using ad blockers

Wikia is not accessible if you've made further modifications. Remove the custom ad blocker rule(s) and the page will load as expected.