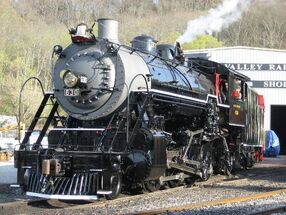 Southern Railway No. 630
is a class Ks-1 2-8-0
Consolidation
type steam locomotive built in February 1904 by the American Locomotive Company at their Richmond, Virginia shops for the Southern Railway.
Southern Railway #630 was used on Southern in regular freight service, originally assigned to the Asheville Division. The locomotive was retired in 1952 and bought by the East Tennessee & Western North Carolina Railway and was renumbered as ET&WNC 207. The ET&WNC were originally offered Ks-1's #685 (Baldwin, 1904) and #835 (Baldwin, 1906), but they were found to be in bad condition. Instead, the ET&WNC purchased #630 and her sister #722 (Baldwin, Sep. 1904) because they were in better condition. The locomotive operated on the ET&WNC hauling freight until December 8th, 1967, when the Southern Railway traded in the then ET&WNC 207 and 208 for it's new steam program. ET&WNC 207 then returned to Southern 630 again and served the Southern's steam program until 1983. 630 continued to run until 1989 when it was once again retired from service. The locomotive Then was donated to the Tennessee Valley Railroad Museum in 1999, after it was leased to them. Southern 630 Then went under a ten year restoration, with frame work, replacing or fixing parts, etc. The engine returned to service in 2011 and it's participating in the 21st Century Steam program along with Southern Railway No. 4501 which is also participating in the program.
#630 had a very small cameo in the film 42, but was renumbered to 390.