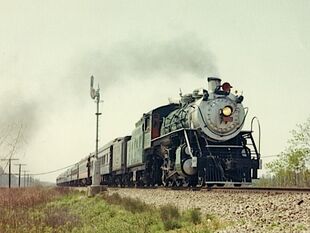 Southern Railway 722 is a steam locomotive built in September 1904 by the Baldwin Locomotive Works. It is a 2-8-0 Consolidation of the railroad's Ks-1 class.
722 was used on Southern's Murphy Branch to pull logging trains between Murphy, North Carolina and Asheville, North Carolina until its retirement in 1952. In December of that decade, 722 and sister locomotive, 630, were purchased by the East Tennessee and Western North Carolina Railroad and numbered 208 and 207 respectively. The ET&WNC were originally offered Ks-1's #685 and #835, but they decided to go for 630 and 722 because they were in better condition. On December 8th, 1967, both locomotives were traded back to the Southern for use in their steam excursion program and reverted to their former identities in return for a pair of former Central of Georgia Alco RS3s.
The locomotives headed main line excursion trains over the entire Southern system until 1983, they were both retired again from the Southern in favor of larger power. They both were leased to the Tennessee Valley Railroad Museum (TVRM) in Chattanooga, Tennessee. In 1992, 722 was subsequently loaned by Southern's successor Norfolk Southern (NS) to the Asheville Chapter of the National Railway Historical Society in Asheville, North Carolina.
In December 2000, the Great Smoky Mountains Railroad (GSMR) purchased the 722 and returned her to her old home at the Murphy Branch. Today, the 722 remains disassembled outside the GSMR workshop area. In addition, the cost for 722's restoration is $700,000. As of 2016, there are no plans for the restoration of this locomotive.
*In 1962, #722 (while she was still ET&WNC #208) traveled up to Knoxville, Tennessee to take part in the film All the Way Home.