Southern Railway No. 1401 is a class Ps-4 4-6-2 steam locomotive built by ALCO in 1926 for the Southern Railway.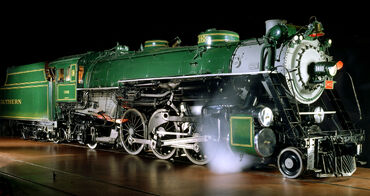 This locomotive pulled Southern's highest-level passenger trains from 1926 until Dieselization in the early 1950s, mostly on Southern's Charlotte Division.
It is the most famous and historic locomotive that use was as one of the locomotives that pulled President Franklin Roosevelt's funeral train from Warm Springs, Georgia, to Washington in April 1945.
The Smithsonian Institution had gathered information on two of 1401's engineers from a 1962 Greenville, SC newspaper interview with one of the Southern's fireman nicknamed "Box Car". "Box Car" (fireman for "DC") accidentally confused the engineers, who happened to be brothers.
Once Oscar "OC" Surratt was one of the engineers on the train that took Roosevelt to Warm Springs.
Harry deButts has to donate one of the retired Ps-4s to the Smithsonian instead of scrapping it.
His brother Cleve "DC" Surratt was one of the engineers that brought Roosevelt's body back to Washington. In the 1950s, war hero and outside legal counsel to Southern Graham Claytor (who would later become Southern's president).
Today it is on permanent display at the Smithsonian Institution in Washington, D.C. since the early 1960s.
Ad blocker interference detected!
Wikia is a free-to-use site that makes money from advertising. We have a modified experience for viewers using ad blockers

Wikia is not accessible if you've made further modifications. Remove the custom ad blocker rule(s) and the page will load as expected.