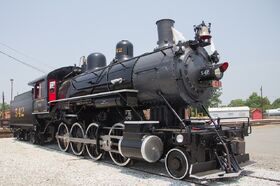 Southern Railway No. 542 is a 2-8-0 steam locomotive. It was built in 1903 by the Baldwin Locomotive Works for the Southern Railway's subsidiary Atlantic & Yadkin.
The locomotive used to haul passenger and freight trains for the A&Y, serving the upper North Carolina Piedmont until the early 1950's.
The locomotive was retired from the Southern Railway in July of 1953, and was the last Southern Railway steam locomotive in operation at Spencer Shops before complete dieselization.
In 1954 the Southern Railway donated the locomotive to Tanglewood Park, near Clemmons, NC.
Today the locomotive is on static display at the North Carolina Transportation Museum at Spencer, North Carolina.
It was cosmetically restored for use in the Leatherheads movie as Chicago & North Western 604 during 2008, being paired with the tender of BC&G 4.
Beginning in 2014, a smoke machine has been placed in the smokebox for The Polar Express event at the North Carolina Transportation Museum.
A trade was made with Tanglewood Park in 1991 using an ex-Illinois Central 0-8-0 to obtain the 542 for the museum. The 0-8-0 is still in Tanglewood as "Southern 1894"
Southern owned only 90 of this rare J class locomotive, and the 542 is the sole remaining example.
Ad blocker interference detected!
Wikia is a free-to-use site that makes money from advertising. We have a modified experience for viewers using ad blockers

Wikia is not accessible if you've made further modifications. Remove the custom ad blocker rule(s) and the page will load as expected.