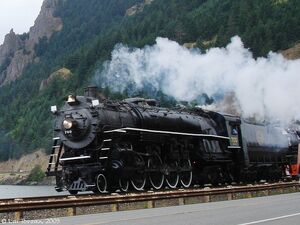 Spokane, Portland & Seattle No. 700 
is a E-1 class 4-8-4 Northern type steam locomotive, built in 1938 by the Baldwin Locomotive Works. 
After withdrawal from service in 1956, the SP&S 700 was donated to the City of Portland, Oregon two years later. It was on static display at Oaks Amusement Park until 1987, when it moved to private quarters for the continuation of work to restore it to operating condition. It began making occasional excursion runs in 1990. In 2012, the 700 was moved to a new facility where it can again be viewed by the public, the Oregon Rail Heritage Center.