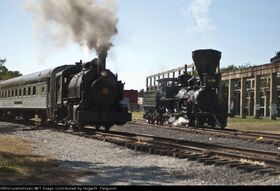 St. Elizabeth No. 4
is an 0-4-0 tank engine built in 1950 by H.K Porter Company of Pittsburgh for the St. Elizabeth Hospital railroad.
The St. Elizabeth No.4 or "Little Lizzie" was used to pull hoppers of coal from a B&O connection to the St. Elizabeth Hospital in Washington, D.C.
When the hospital switched from coal heat to oil heat, the No.4 was transferred to the U.S. Army's training railroad in Fort Eustis, Virginia.
"Little Lizzie" was used in switching practices and was renumbered as USA No. 714.
On June 26, 1972, the post's 714th Transportation Battalion (Railway) was de-activated, and the No. 714 was sold to the Cass Scenic Railroad in West Virginia.
In 1980, the St. Elizabeth was given to the B&O Railroad Museum where it has been fondly remembered as the last steam locomotive produced by the H.K. Porter Company and one of the last steam locomotives ever produced in the United States.
As of today it's at the B&O Railroad Museum.
Switch engines were designed for use in areas with severe curvature, such as industrial complexes.