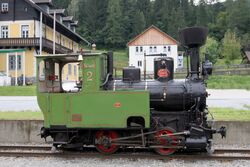 Stainz
is an 0-4-0 narrow-gauge short tank engine steam locomotive built in 1892 by the Krauss locomotive works for the Salzkammergut-Lokalbahn.
The locomotive was used for switching service on the Bad Ischl-Strobl line.
The "Stainz 2" in 1969 was transferred on Murtalbahn (after repairing and few important modifications in 1967) for rail enthusiast train until 2000.
The engine is now operational at the Steiermaerkische Landesbahnen.
The "Stainz," is the oldest surviving narrow gauge steam locomotive in Austria.
The Krauss locomotive works built four small steam locomotives for the railways of Austria's Styrian region.
The "Stainz" is the face and is found on the logo of L.G.B. Trains, a model train Manufacturer in Germany.